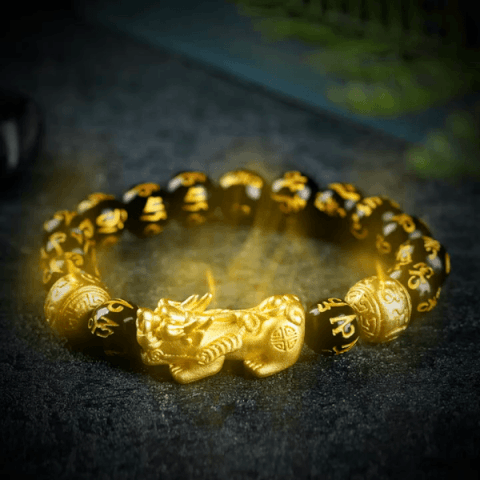 The Feng Shui Black Obsidian Wealth Bracelet is a popular amulet to attract wealth and fortune. Pixiu is a known symbol of wealth and good luck and one of the most effective spiritual entities for attracting wealth.
What Can a Feng Shui Wealth Bracelet Bring You?
According to modern beliefs, it provides a total of six wealth-related benefits:
It magnetizes fortune and good luck for the wearer. If you feel that fortune has been eluding you all these years, your energies may be misaligned. Use this talisman to bring your vibrational energies back to the correct frequencies for attracting good luck and wealth. Everything begins with our energies and what type of energy we are producing in the first place.
The Feng Shui Wealth Bracelet can help generate good Feng Shui, which benefits an entire space. Instead of relying on a host of separate actions, good Feng Shui will emanate from the bracelet. This bracelet can help bring the fortunes of the good Earth to your home and business.
The Feng Shui Bracelet  helps increase your material wealth and riches on Earth.
It provides protection and safety to individuals and buildings. The Feng Shui Wealth Bracelet and the volcanic glass naturally ward off misfortunes such as fires and other unsavory events.
It can also be used as natural protection against misfortunes and the evil eye. Protect yourself and your business from different kinds of misfortune and make your business even more prosperous this year, despite the pandemic.
Attracts enormous windfalls to ensure a most prosperous year for all.
Pixiu is one of the most popular Feng Shui celestial animals believed to attract wealth luck, either windfall or direct income to the owner. It has come into display Jewelry made of different materials (Jade, obsidian, gold, and others). In short, the Pixiu is a celestial creature highly associated with wealth. And it is also the pet of the Grand Duke.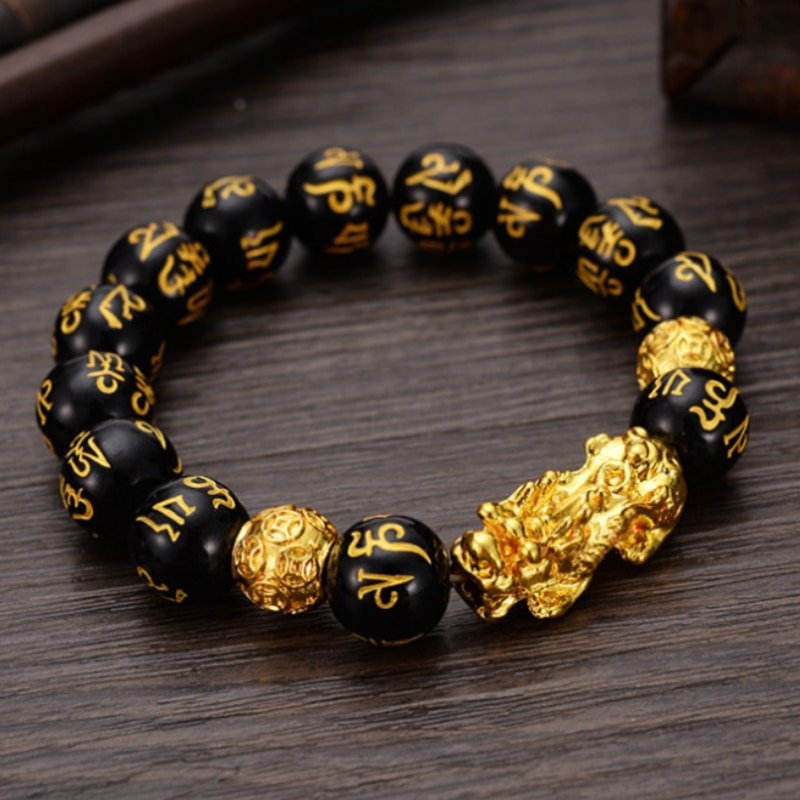 Obsidian is a really cool form of naturally-occurring volcanic glass, formed as an extrusive igneous rock. It manages to be both pitch black. It is a powerful crystal for protection, helping to clear the buildup of psychic smog within your aura. A bodyguard to your soul, the Obsidian stone also protects you from shadow traits — fear, anxiety, addiction, and anger by acting as a mirror to your inner self. Black Obsidian also resonates with the root chakra as it aids with grounding and connecting to the Earth.
This obsidian can help you:
Go deep within yourself.
Bring pleasure and enjoyment to your life.
Make the unconscious conscious.
Get in touch with buried issues before they explode.
Clear old energy/past lovers from the womb space
How to wear a Feng Shui Pixiu Bracelet
The Pixiu bracelet is best worn on the left hand, instead of the right hand, because it is believed wearing it on the left will attract good wealth luck, and if you wear it on the right, it is giving away your wealth to others people. The head of the Pixiu should be facing outwards, as it symbolizes going out to gather wealth and bring it back for you. Please do not wear it facing towards yourself.
When you are sleeping, bathing, or in any other situation that you are not wearing, you should rest the Pi Xiu in a silver or sterling silver bowl filled with precious items such as semi-precious gems, silver, or gold. Always touch the Pixiu while wearing it to connect with it and let it know that you are its owner. Avoid having someone touching it but if it happens, cleanse the Feng Shui Black Obsidian Wealth Bracelet with sage or camphor.
 Item Type:
 Bracelet
Bead Size: 10mm
Gender: Unisex
Material: Natural Obsidian Stone
1 * Feng Shui Black Obsidian Wealth Bracelet